Led by Jenny Fenig // Class Begins January 2018
Enrollment Closes In …
Step into your highest calling as you share your coaching gifts with clients you adore
Work with clients while you're still in training
Learn how to earn a great living from an award-winning entrepreneur
Sacred, online learning immersion. Train to become a coach from anywhere in the world

Hello there, new + aspiring coach!
I have a few questions for you:
Have you been the go-to that friends, family, colleagues and strangers come to when they need guidance?
Do you love reminding people of their innate power and gifts?
Do you have a knack for lasering in on an issue and shifting to a solution with grace and confidence?
Do you read self-help books, blogs and advice columns and think you could write what you just read?
Do you dream about leading grateful clients through powerful transformation?
Are you ready to step into an exciting, lucrative career and personal growth path called COACHING?
Hi, I'm Jenny Fenig, and I was once in your shoes: thinking about becoming a coach.
If you feel you're being called to the COACHING industry as your career or a supplement to what you're doing now, but aren't sure how to actually BE A COACH, you landed in the right spot on this page.
Don't you just love when that happens?
But before I tell you more about how you can become a student in Get Gutsy Coach Training School, I want to tell you a story about how I found my way to coaching and built my business as a coach.
I want you to see what's possible for you when you say YES to coaching.
I like to think of my life as BC (Before Coaching) and AC (After Coaching).
My entire life changed when I discovered the field of coaching and said YES to an extensive coach training program.
This was March 2008.
In November 2007, I quit my $175,000 a year job as a conference producer in New York City while in the midst of a 200-hour yoga teacher training program.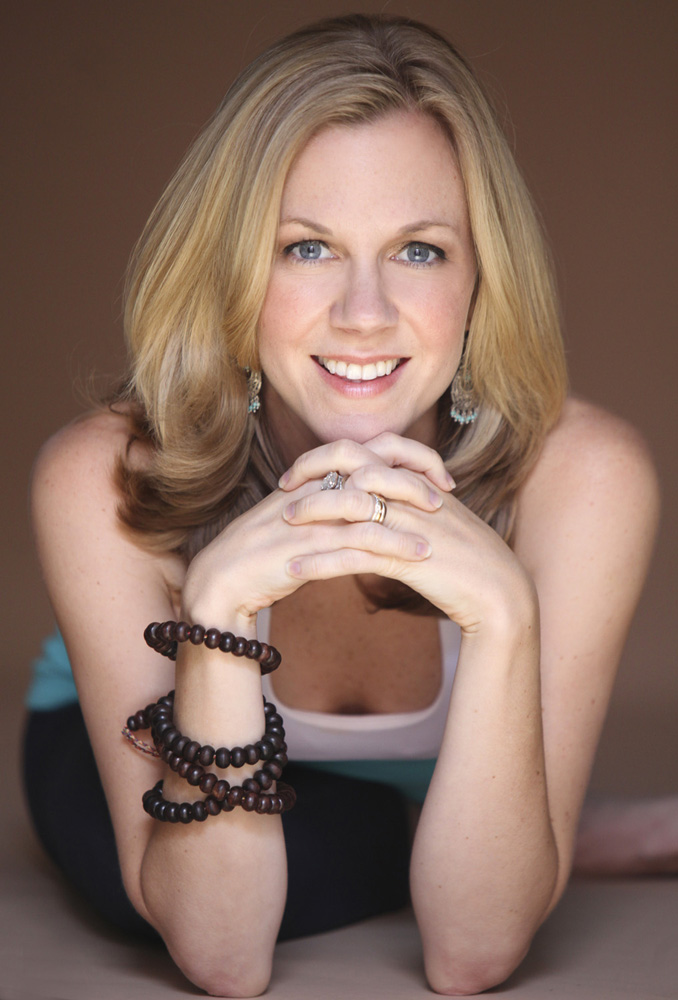 At that point, I didn't know much about the field of coaching. It hadn't yet exploded onto the internet or in our collective conscious like it has now.
But as fate would have it, I met a woman in a workshop led by Jonathan Fields who was a yoga teacher and creativity coach.
At that point, I was really trying to figure out what the heck I was doing with my career since I had quit my corporate job and was trying to figure out the next step in my work.
I considered becoming a teacher with Teach for America, training to become a nutritionist, taking a corporate fundraising position with St. Jude Children's Hospital, becoming a marketing executive for a branding firm, going for my 500-hour yoga teaching certificate, and selling yoga apparel at lululemon in my neighborhood.
Pretty diverse options, right?
That's my Gemini mind at play!
Having babies was in my future so this was a consideration for my new career path.
What would allow me to make a great impact in the world with my gifts, earn a fantastic income AND have a flexible, freedom-based schedule with me calling the shots?
When I heard the word "coach," my curiosity was piqued. My body took notice and something inside me shifted as I contemplated this path.
Just what was this "coach" thing?
I madly researched coaching schools and found one that spoke to me to the tune of $9,000 and 10 months of hard-core training.
Throughout the course, I evolved into what I had always been deep down inside: A COACH, a GUIDE, a TEACHER.
I learned to ask open-ended empowering questions, listen deeply, reframe situations, work with different levels of energy … the list goes on.
Most importantly, I found myself again after spending much of my 10-year career feeling like I had taken a wrong turn.

I LOVED coaching.
Loved what it did for both coach and client.
Having known so much about psychotherapy after working with my fantastic therapist for several years, I appreciated how coaching used a different modality to shift energy quickly in high-functioning clients who were committed to their growth.
Everywhere I went, I would tell friends and strangers what I was up to and that's exactly how I got my clients.
I didn't have a website or email list or newsletter until July of 2009 – 17 months into my coaching career.
So getting clients at the beginning of my coaching business involved me spreading the word about what I was doing to anyone who would listen and handing out my trusty business cards.
I did a lot of 30-minute "complimentary" coaching sessions by phone and was able to convert a good number of prospects into paying clients.
I'll never forget when I got my first paying client! I was still in coach training and I was simply over the moon that this gal – a friend of a friend – was interested in hiring me as her career coach. I took it as a sign from the Universe that I was exactly where I was supposed to be.
When I first started, I would coach my clients 4 times a month at around $300 a month. This was the holy grail of coaching. If you could sign a client who wanted the 4-time-a-month package, you were doing a happy dance!
To accommodate different commitment levels and budgets, I also would offer 2 sessions a month at around $200 a month. I'd assign homework between sessions and would be available for email coaching.
Honestly, it felt like free money because I loved the work so much.
After signing a number of clients into multi-month coaching packages, I realized we had a problem.
And that problem was this: the model that I had been taught in coach training was not going to work long term. It was truly a broken model for a gal like me.
Sure, I was having fun coaching my clients. I was making a difference in their lives and I was earning some money.
But I got pregnant with my first baby in May 2008 (yay!) and I knew I wouldn't be able to coach 5 days a week for hours at a time once my baby was born. I also knew that even IF I wanted to keep this schedule, the money simply wouldn't add up to what I desired for my family or lifestyle.
Up to this point, I wasn't even coaching full-time. I was pulling in MORE money as a freelance consultant as a conference producer (this is the job I used to do when I worked in corporate) and this took up about 75% of my work week.
But I LOVED coaching and I didn't love being a conference producer anymore. I was doing it simply to help pay the bills as I built my coaching business.

So I started thinking about what I could do to LEVERAGE my time more effectively, step away from my freelance consulting work, and generate more income as a coach.
The year is now 2009 and my first baby Sean had just entered the world in early January.
I joined a new mom's support group to help me navigate the world of motherhood, which was a God-send.
I eventually got the idea to launch my own new mom support group on the Upper West Side with a company called mommybites as there was a major need for it.
This support group concept took off! We ended up launching groups for working moms (I know – all moms work!) and entrepreneur moms, too! And I trained other women passionate about supporting moms to lead their own groups. It was truly amazing. I like holding space for women to grow.
It was during these groups that I saw the magic of women coming together to support each other. I saw the magic of soul sisterhood. This is truly where my love of group coaching was born!
At this time in mid-2009, online marketing was getting some of my attention.
I had launched my website (I paid a designer $1,000 to build this for me) and published my first monthly newsletter and started growing my list on Constant Contact.
I was on Facebook and involved in some online networking groups.
It was in one of these online networking groups that I met a gal who had a shared interest in supporting moms online.
She knew A LOT more than I did about online marketing, CRM software, teleconference lines, sales pages, preview calls and more … but I was so eager to learn.
We put our heads together and eventually launched my first-ever group coaching program called the Inner Mama Mastery Program. It was a 3-month program that we were in love with.
We thought we'd get like 300 women to sign up during our launch. What did we know? I think we got about 10 and then we offered a few bring-a-friend for free spots, which brought our total enrollment to about 16 women.
I was CRUSHED as I realized this world was a lot more complex than I thought, but also so PUMPED to be working with women from AROUND THE WORLD through the power of technology.
There was something totally magical about this and I was hooked on the world of online marketing, but realized I needed to know A LOT more if I ever wanted to be successful as a coach doing business with women around the globe.

What did I do next?
Released my conference production consulting (I was free!) and signed up for my first-ever entrepreneur conference called SHINE hosted by a big-time business owner named Ali Brown who I had just heard of a few months prior.
I sold my wedding dress to afford the ticket. (I tell that story in my book "Get Gutsy.")
I left my baby for the first time and had to pump the entire time I was away since I was nursing.
That conference changed my life and saved my business.
I would not still be coaching if I hadn't invested in myself and learned everything I needed to know about establishing my brand platform online.
This move was crucial even though I had extensive experience in brand-building and marketing communications for huge companies like M+M's candies, Kellogg cereals, Hershey chocolate, Polaroid cameras, Pfizer's Viagra (they all were former clients during my public relations career).
This move was crucial even though I also had a business background curating and producing hugely profitable business conferences for marketing strategists at Fortune 500 companies.
I lacked training on how to be an ENTREPRENEUR!
It's true: being an amazing coach is one thing, making a sustainable living as a coach is another.
Don't be fooled by the slick online marketing machine that noisily tells you the bells and whistles with no substance will cut it long-term.
And don't believe that being the best coach in the world while simultaneously being the most unknowledgeable marketer and entrepreneur in the world will work either.
CONFIDENT COACH + AUTHENTIC MARKETER + SMART ENTREPRENEUR = MAGIC
I've been a coach and entrepreneur since 2008.
As I sharpened my skills as an entrepreneur and rolled out courses like the Live Your Dream Challenge, Cash In On Your Calling™ and the Business Adventure School, I was attracting amazing, talented clients who wanted to build businesses as coaches, but lacked the foundation, skills and tools to COACH with INTEGRITY, AUTHENTICITY and CONFIDENCE.
I coached them privately on how to coach and what to do with clients and all that good stuff, and we made progress, but it got me thinking that there has to be a better way.
With all the noise on social media about making 6- and 7-figures online with your gifts and talents, many well-intentioned women are jumping on the coaching bandwagon as a fast and easy path to cash, clients and freedom (who can blame them?!).
BUT, here's the problem with that approach …
Without solid training on how to BE A COACH from a certified coach who is making a living as a COACH, it's a bit like opening a beautiful boutique in a perfect, high-traffic location with a major issue:
YOU DON'T HAVE ANYTHING TO SELL.

And if you're trying to follow the crowd and fake your way through coaching, it's only a matter of time before your lack of training catches up with you as you become unable to coach from a place of WISDOM, PRACTICE and INTEGRITY.
Coaching without a framework is dangerous and can quickly erode into CARETAKING, CHASING, CO-DEPENDENCY and BURNOUT.
And training to become a coach WITHOUT spending time learning about building a sustainable online business as a coach is simply setting yourself up for disappointment and broken dreams.
That's why it's time for something NEW in the COACHING TRAINING INDUSTRY.
A call to arms for NEW and ASPIRING COACHES who desire to coach from a foundation of STRENGTH, SKILL and STRATEGY.
Welcome to the experience you've been looking for:
Get Gutsy
COACH TRAINING SCHOOL
I've created the Get Gutsy Coach Training School to give you the tools, skills and business blocks you need to confidently step out as a coach as your new career OR as a supplement to the work you're doing now as a healer, psychotherapist, social worker, yoga teacher, consultant, financial advisor, personal trainer, nutritionist, massage therapist, web designer, writer and more.
Imagine … earning a great living doing the work you were put on this planet to do, working with clients you adore all over the world by phone, Skype or in person (locally or in exotic destinations around the globe).
It's not a pipe dream. It's very real.

Superstar Students Speak Up
Get Gutsy Coach Training School Is For You If You Are …
Looking for cutting-edge coach training curriculum
Committed to becoming well-trained and masterful credentialed coaches
An internal corporate or organizational coach responsible for developing a strong coaching culture within your company
Looking to blend this approach with other philosophies
Interested in layering coaching skills and offerings into other careers or businesses as a healer, psychotherapist, social worker, yoga teacher, consultant, financial advisor, massage therapist, web designer, writer and more
Wanting to communicate more effectively across the board and experience more sacred success in business and life
Excited about walking the personal growth path as a coach
Obsessed with helping people fulfill their potential
Ready to learn about the business of coaching so that you can earn a great living as a coach
Desiring to be confident as a coach AND coach with integrity
Self-motivated, resourceful and know how to take action
A fan of having FUN while you're learning and growing
Wanting to give support to and get support from a crew of lightworkers + leaders walking a similar path as you
The Get Gutsy Coach Training School Is NOT For You If…
You can't keep commitments and have difficulty honoring your word
You get defensive about candid feedback
You're not willing to do the "inner work" and "outer work" necessary to grow as a coach
You are negative, passive-aggressive, unorganized and don't take responsibility for your results
You love to bitch, whine and make excuses pretty much every damn day
You love to pick fights, bully, antagonize, disrespect, be rude or judgmental
You have trouble making decisions and need constant hand-holding
Investing in your growth would be a huge financial burden on your family
You expect to be financially successful immediately from your coaching business and aren't willing to put in the sweat equity to build a solid, sustainable foundation for your business
Guest Teachers
We have the most extraordinary, generous guest teachers sharing their wisdom with YOU. Check out who is ready to help you grow …

DANIELLE LAPORTE
Keeping It Real On Your Spiritual Path
Danielle LaPorte is an invited member of Oprah's Super Soul 100, a group who, in Oprah Winfrey's words, "is uniquely connecting the world together with a spiritual energy that matters."
She is author of many books including her newest >> White Hot Truth: Clarity for keeping it real on your spiritual path—from one seeker to another.
When you join Get Gutsy Coach Training School, you'll get access to an exclusive (and revealing!) Q+A jam that will rock your world.
---
JENNIFER KEM
Building a Master Brand
Jennifer Kem loves brands because brands make the world-go-round. She loves teaching entrepreneurs how to master and monetize their businesses, create an unforgettable personality brand and dominate their niches by turning their ideas – their brilliant, world-changing ideas – into CASH and MEANING.
SELENA SOO
Connecting with Influencers
Want to reach more people and change the world with your work? Selena Soo teaches coaches how to cultivate your own powerful relationships with influencers and the media, and become seen as the leaders in your industry.
---
CHANTELLE ADAMS
Speaking Your Way to Success
Imagine getting paid top dollar to share your story, getting book deals, creating a massive following of raving fans, selling out your coaching programs and making a huge difference in the lives of your tribe. All this juicy goodness comes from showing up and getting your brave on while speaking on live and virtual stages. Chantelle Adams will show you the way.
PRERNA MALIK
Creating Stellar Content
Do you want to save a minimum of 10-15 hours every week so you can focus on what you do best while your communities build themselves?
Copywriting and content marketing is all about sending out the right message to the right people at the right time.
Learn what you need to know to successfully launch your coaching business from stellar copy crafter + content chef Prerna Malik.
Curriculum
**Get Gutsy Coach Training School begins in January 2018 and lasts for 4 glorious months.**

To truly make it as a coach, you must first go inward to understand why you're being called to coaching. This is a deeply enriching yet intense personal growth path so we will spend time preparing you to walk this path with courage, integrity and confidence.
You'll discover how to:
Understand the difference between coaching, consulting, therapy and mentoring and why it matters
Redefine the rules you live by (if you don't do this, you won't go far in your coaching business)
Connect the dots of what led you to coaching so you can share this powerful story with your clients and prospects
Get intimate with your fears and doubts so you can see them for what they are (self created!)
Bring an end to the tolerations, bullshit and limiting beliefs that are holding you back
Claim your unique gifts, credentials, experience, passions and priorities so you can stand out in the market
Tap into the power of visualization to start carving out your ideal future now and making decisions that move you in the right direction
Establish a solid foundation for your brand rooted in values, truth and your gutsy dreams

Alright, this is the JUICY stuff that separates pro coaches from the amateurs. I know you want to get amazing results for your clients! That's why we'll spend plenty of time exploring and playing with these mission-critical concepts.
You'll discover how to:
Coach clients to redefine their relationship with their Inner Critic (this is a game-changer!)
Ask empowering questions (take a sigh of relief – you DON'T need to know all the answers for your clients OR be a perfect human being!)
Hone skills like acknowledging and validating; moving through energetic blocks; planting seeds; listening; reframing; accountability; visualization; bottom-lining; forwarding the action; and inspiring that will lead to powerful client engagements
Steer clear of victim and vampire energy as you grow your coaching business
Gracefully but firmly handle "nightmare" clients
Leverage tools used in my book Get Gutsy to aid in massive shifts for your clients (these tools are awesome for workshops and for homework between coaching sessions as a complement to your approach with clients)
Develop boundaries, policies and procedures to protect you and your clients

This is where the rubber meets the road. Now that you have what it takes to be a POWERFUL coach, it's time to teach you how to set-up your coaching business and fall in love with sacred marketing and smart entrepreneurship so you can attract your ideal clients.
You'll discover how to:
Embrace your unique vibe to attract your tribe
Coach your first client with confidence and strength
Tell your "heroine's journey" story as a way of connecting with your prospects who are a few steps behind you on the path
Announce your business to the world
Commit to a regular content creation schedule for your newsletter, blog and freebie creation so you can consistently be attracting prospects and serving your tribe
Hold space between sessions (this is when the most amazing shifts take place!)
Lead powerful enrollment conversations with prospects interested in coaching with you
Onboard new clients with class and systems (and how to deal with clients who freak out and change their mind)
Decide if email coaching is worth it (it can quickly get out of control if you don't have parameters around this)
Implement the right systems and technologies from the get-go
Choose the coaching model that is best for you at this stage in your business
Lead powerful retreats and workshops by taking your expertise and slicing and dicing it into teachable content that your clients will love
Create and sell VIP Days for huge client growth and massive paydays for you (nailing this skill will pay for enrollment in this course many, many times over)
Develop online courses and group coaching programs that move you out of the 1:1 model
The training modules that you'll dive into include …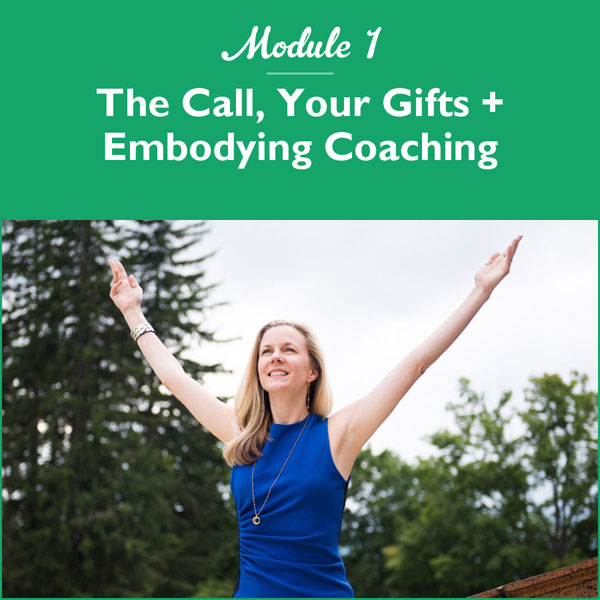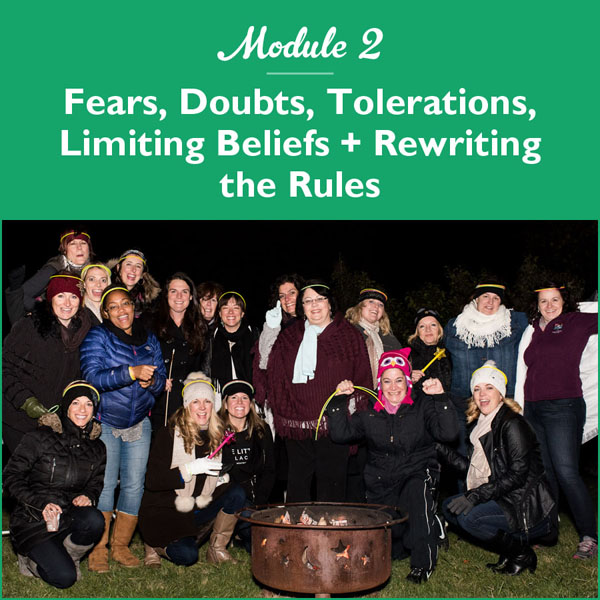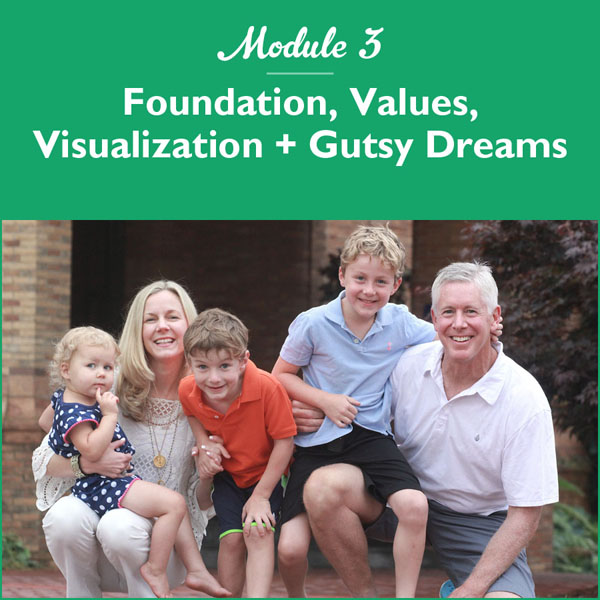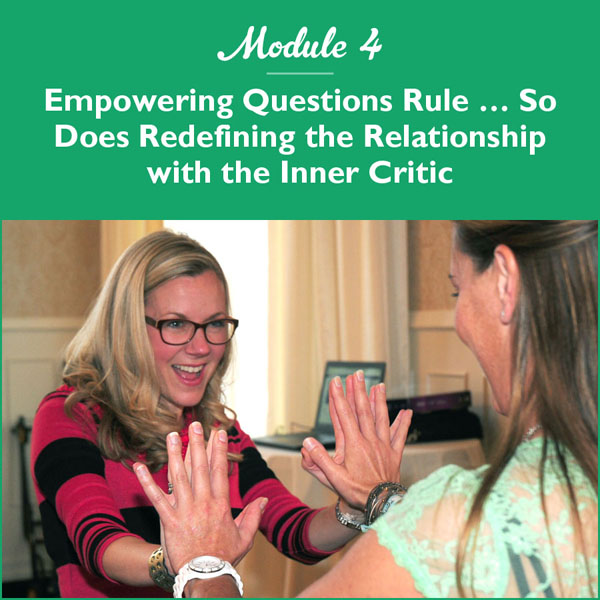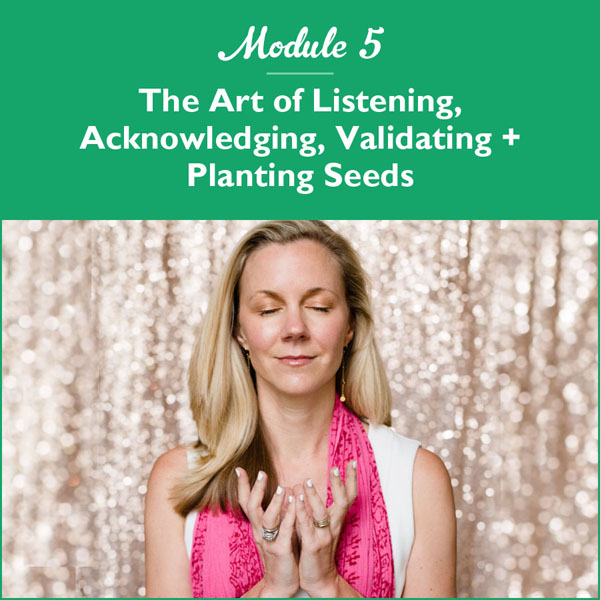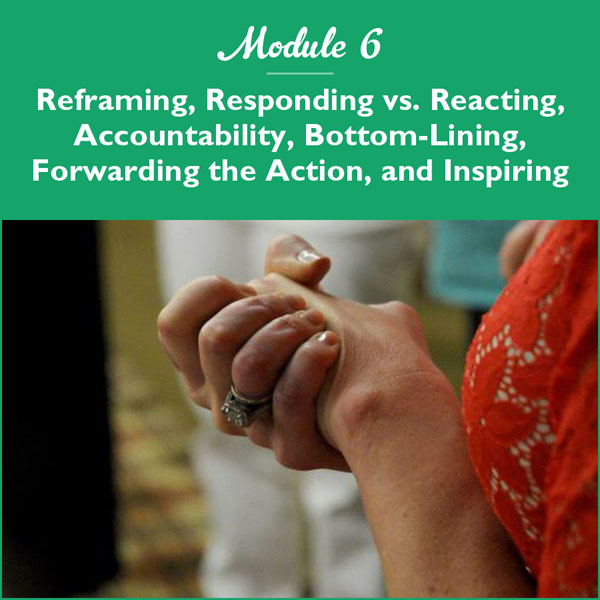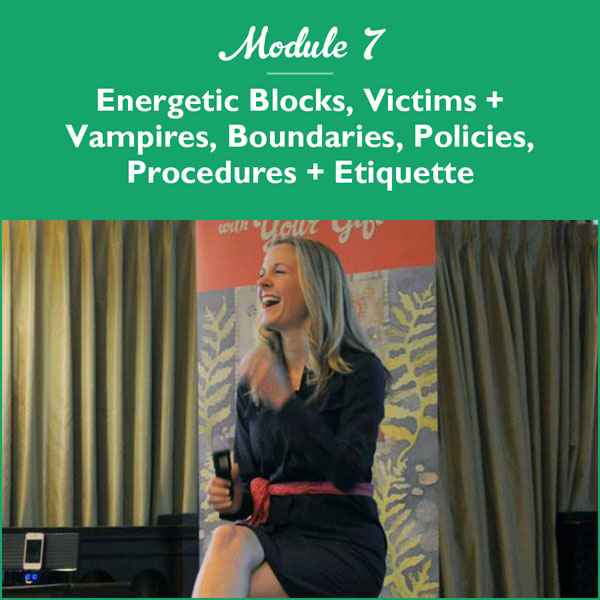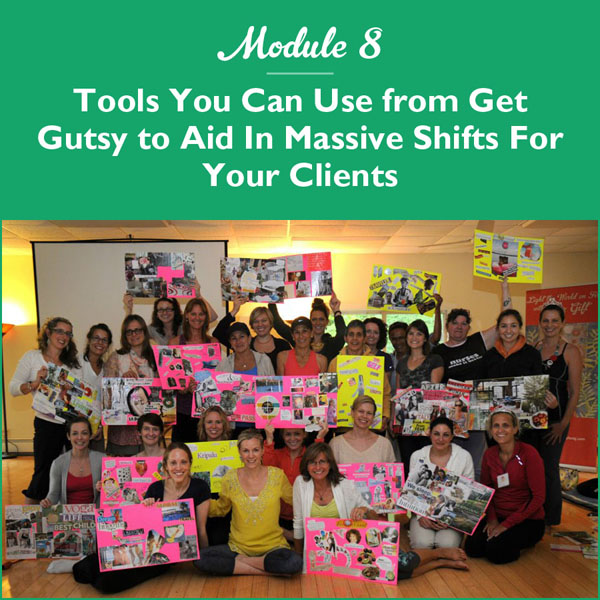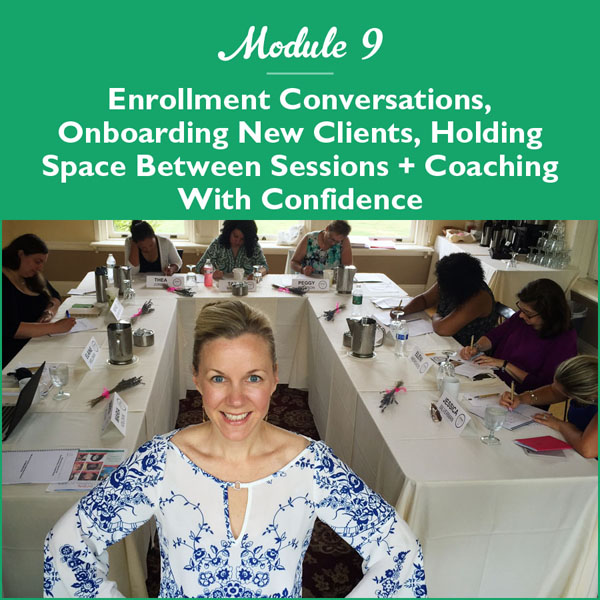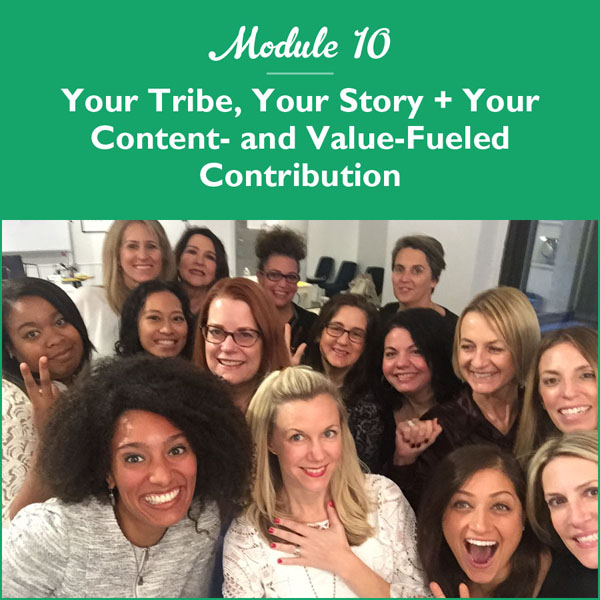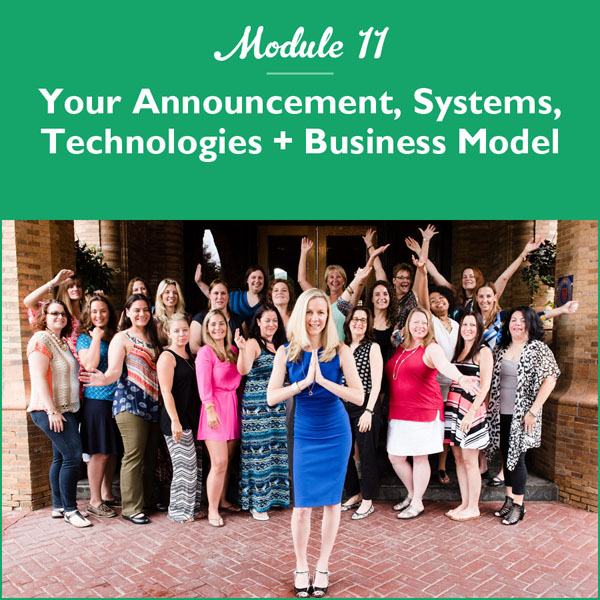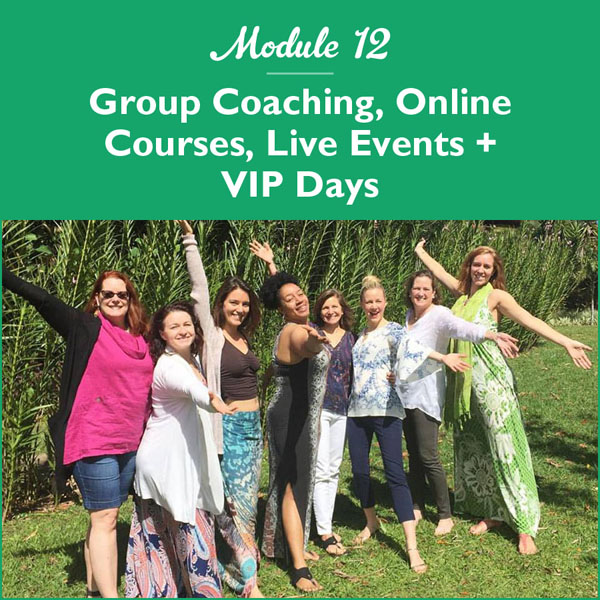 What You Get
Weekly Training Lessons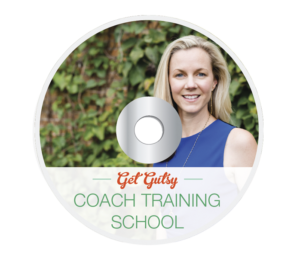 You'll have exclusive access to 12 audio training lessons, each lasting 30 – 90 minutes. These lessons will immerse you in the 3 GOLDEN KEYS described in our Curriculum.
Training lessons are delivered by email each week and are housed over on our handy dandy customer portal (so easy to stay organized there!). Listen to them at the BEST time for you and never worry about falling behind. You have lifetime access to all of the trainings and can go back and listen again and again.
You'll receive 3 training lessons each month with an integration week built in during 1 week of each month so you can pause and truly take stock of what you're learning.
Step-By-Step Action Guides

Along with each training, you'll receive a step-by-step action guide walking you through how to bring the concept to life as a coach.
Live Group Q+A Calls + Coaching Demos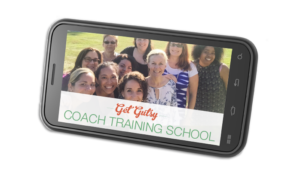 You'll love our Group Q+A Calls + Coaching Demos happening throughout the program. This is where deep connections, commitments and breakthroughs are made.
Work Samples + Resources + Tip Sheets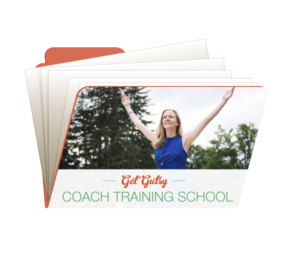 You'll receive access to Jenny's online library of coaching awesomeness.
Some of what you'll score:
Client intake form
List of empowering questions to use during sessions
Package and pricing examples
Tools from Jenny's book Get Gutsy that you can use with your clients
Sample offer form for a live workshop
Tips on hosting a live retreat or workshop
Mastering a preview call/webinar launch tipsheet + suggested flow for your training
Dealing with price objections
Mastermind application example
Sales + enrollment conversation tip sheet
When + how to refer a client to a therapist
Opportunity to Be Paired with a Peer Coach + Peer Client
You're about to be GIVING and GETTING a lot more coaching. Time to do a happy dance. You aren't required to be paired up with a peer coach and client during Get Gutsy Coach Training School, but you are encouraged to make space for this opportunity. Many of our graduates say that this is their FAVORITE part of the entire experience.
Private Connection Forum

Enjoy ongoing support in our private Get Gutsy Coach Training School Facebook forum. Connect with the other leaders in the program as you evolve into the coach you're meant to be.
Opportunity to Become a Get Gutsy Certified Coach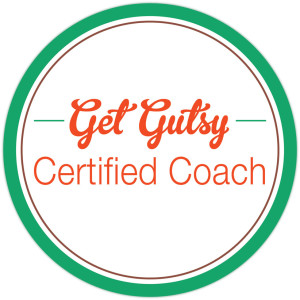 Everyone who graduates from this course in good standing will have the ability to promote that you are a graduate of Get Gutsy Coach Training School through a badge you can add to your website.
You can also apply to become a Get Gutsy Certified Coach. The Certification process (written test, oral test and coaching hours) is created to make sure you completely understand the coaching tools and concepts and have confidence in your abilities.
All coaches who are granted certification receive a Get Gutsy Certified Coach badge for your website and will become a part of Jenny's referral network. You'll also be considered for visibility opportunities within Jenny's community to further hone your coaching and business-building skills.

Superstar Students Speak Up
Hot Bonus!
Access to Jenny's Treasure Chest (value = $1,500)
You'll get juicy access to a number of resources to experience for yourself AND get ideas for creating courses and programs for YOUR clients. Boom!
Dive deep into these mission-critical concepts:
★ Growing Your Platform ★ Niching ★ Sales ★ Your Signature System ★ Launching ★ Team Building ★ Copywriting ★ Content Creation ★ Systematizing + Automating ★ Visibility ★ Mindset + Money Secrets ★ Writing Your Book ★ And so much more
Hot Bonus!
LIVE 2-Day Retreat at My Beautiful Home (value = $2,000)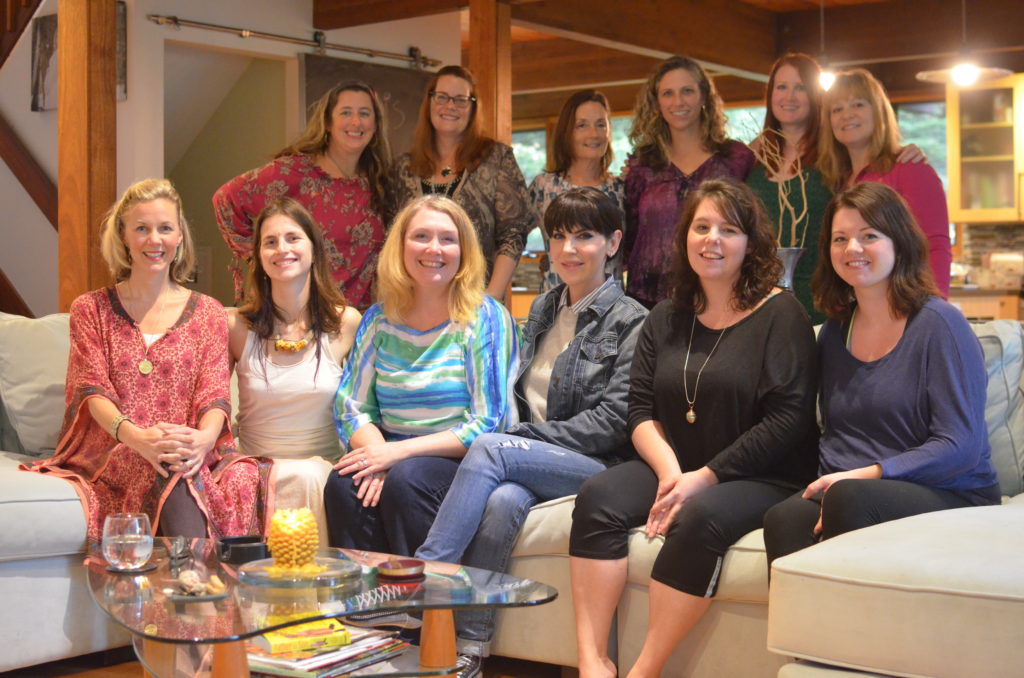 While I LOVE that this program is 100% online, allowing us to serve students all over the world, gathering in-person certainly takes the experience to another level.
That's why, I'm leading a 2-day retreat for my coaching students in my beautiful home in the Berkshires of Western Massachusetts (we have an energy vortex here).
Our retreat will be held in late April / early May 2018 to give you a chance to come together with your classmates to go deeper into the training and tools .
I'll also teach the art of leading SACRED CIRCLE and other powerful RITUALS (in person + online) for your clients.
Attending the retreat isn't REQUIRED, but it's a valuable bonus our students! If you can't make it live, we will livestream as much of it as we can for you.
Hot Bonus! (JUST ADDED)
ONLINE WORKSHOP > Leading Powerful Meditations + Guided Visualizations for Your Clients (value = $250)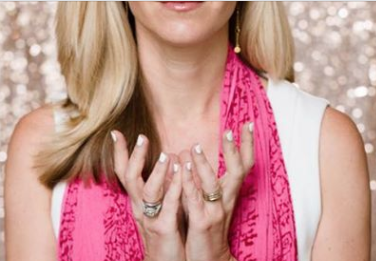 This is one of the greatest gifts you can offer your coaching clients > support for going inward where true answers + peace live. In this 1-hour workshop, I'll share how to best serve your clients with your spiritual guidance.
My premium clients who invest significantly to work closely with me in my programs love that I bring this skill to our work. And I want to teach you to plug into this too. These tools are game-changers for you and your clients.
This online gathering of spiritual coaches in GGCTS will be held on December 21 (and will be recorded if you miss it). What a beautiful way to bring an end to 2017 + make way for 2018!

Superstar Students Speak Up
"If there was anyone who was going to train me to become a coach, it was going to
be Jenny. I jumped in with both feet and it was the best experience ever."
– Julia Slike, LessHustleMoreHeart.com
---
"This course was filled with soulful women and practical applications."
– Beth Belshaw, Infinity-coaching.ca
---
"I had been through several coaching programs before that didn't really resonate with me before I met Jenny and right away I just vibed with her. She's there for you 110% of the way."
– Ashleigh Roda, UpYourShineFactor.com
---
"I wanted to learn from the best. Jenny is an incredible example of running your own business from a spiritual perspective. She helped me build my business from the bottom up and be an incredible coach. Jenny holds space for you to reach your full potential."
– Kristina Peduto, YourCareerOnFire.com
---
"I highly encourage you to take the leap of faith and jump. It is well worth it." – Lacy Consolini-Florentino, Little Black Book Concierge
---
"The guidance and support of Jenny is spiritual and strategic. Now I have a method to my madness to help you claim your power center."
– Michele Julian, JulianMethod.com
---
"Jenny has been a guiding light leading me to the next level of my business. She's helped me become a better coach. If you are thinking of becoming a coach or sharpening your skills, I highly recommend Jenny's program."
– Dena Blevins, DenaBlevins.com
---
"I was once right in your shoes trying to decide how to become a life coach. I searched for months until I stumbled upon Jenny. It was one of the best stumbles of my life. I appreciate her authentic personality and energy."
– Renee Slembarski, ReneeSlembarski.com
---
"I feel that I have a message to get out to people, but I was afraid to let my voice be heard. To use my voice, I decided to do Get Gutsy Coach Training School. It helps me focus and bring my voice to light and help others through my experiences."
– Lynn Spiro, LynnSpiro.com

Superstar Students Speak Up

Questions You May Have
The LIVE Retreat is held at a my beautiful home in the Berkshires of Western Massachusetts! The intention of the Retreat is to fine-tine your coaching skills, ensure you feel confident using the sacred + strategic tools available to you and your clients, and develop powerful partnerships with the women in the room as we sit in sacred circle together! You can fly into several airports (ALB, BDL, BOS, LGA, JFK and EWR). Train and bus travel are also possible. And, of course, driving! The LIVE Retreat is a BONUS + optional element of Get Gutsy Coach Training School. It's not required for graduation though you are HIGHLY encouraged to come as doing so will greatly deepen your learning and odds of sustainable success. While the Retreat is offered at no additional cost to you, you'll be responsible for your travel expenses, lodging and some meals. Tentative date = late April or early May 2018. If you're unable to join us in person, we will livestream parts of the retreat + share with you.
We do not currently provide scholarships or adjustments to our payment plan. We've found that when students invest at the same level, there is a powerful + clean energy in the group.
I'll teach you how to use the same methods I've used over the past 10 years and will encourage you to get out there and work with clients as soon as possible. As far as charging, this is totally up to you! I will give you guidance on various packages and price points to play with to see what gets traction and results with your prospects and clients.
You can't "fall behind" in the training material. All content (audio + action guides) is delivered in our membership portal each week during the 4 months of the program - so you can listen at the best time for you each week and get lifetime access to curriculum. Each month, you'll receive 3 weeks of training + 1 week of integration/pausing built in. Group Q+A and coaching demo calls are recorded if you miss the live calls. Easy! That being said, I encourage you to truly give this your all and show up as best you can so you can truly shine as a coach.
Great question … and great news: Get Gutsy Coach Training School is set up to be VIRTUAL so you can truly go through at your own pace. Training lessons will be sent to you each week and if you fall behind, don't worry … you can always go back and complete them at a better time for your life. You have lifetime access to all of the content and materials as long as your account stays in good standing (your payments are up to date). In terms of the group Q+A and coaching demos, if you miss the live calls, you can send your questions to us by email in advance and we'll answer them on the call. Then you can go back and listen to the call recordings when you are back from your time away. You can come into our private Facebook forum at anytime and share your questions and ideas and you'll have a crew of fellow women going through the program who will want to support you as you will want to support them.
The online community is virtual and housed over on Facebook. Think of it the forum as a sacred women's circle. You'll get to know each other and won't get lost in the crowd. We take the energy in online forums seriously and you will see the forum rules to follow when you enter the forum so we can keep it a beautiful, sacred, supportive space for everyone.
When presenting the opportunity to get results in Get Gutsy Coach Training School, it is important that you share with your partner, 1) What the program specifically entails, 2) what solution it provides, 3) what makes it different from other programs you've considered, 4) the credentials of the coach (me!). Your partner simply wants the best for you and when you describe what you'll get and what your return on investment will be, you will likely have full support. Go for it!
When any opportunity for growth is presented to you, it's important to evaluate it based on the value and specific results you will receive from it, not from what it "costs." This requires a mindset shift. For example, when looking at my own opportunities for investing in myself, I use a '3x' model. "If I implement everything that is presented to me in the program, using the expert coaching, training, support and accountability that are built in, is it likely that I will make 3x my investment back in the program?" If the answer is "YES!" then it is a very good investment. Obviously if this investment, even at the low installment level, is going to bring financial hardship to you and your family, then you are not ready (and that's okay!). But realize that if it IS within your comfortable grasp, then investing in yourself is the BEST investment there is because you get results that pay for the training and more, and you can use the learning for the rest of your life and career.
I'm glad you ask! While I trained with an ICF-accredited school and respect the ICF, I'm not interested in making my training program ICF certified. You should know that there are no regulations on coaching or coaching requirements. The ICF is a trade organization with its own rules and ideas. I like maintaining flexibility with my teaching and training and can best do this by remaining independent. I was also influenced by the fact that not one of my coaching clients have asked if I was certified by the ICF.
All our calls are recorded and uploaded to your online customer portal within 48 hours. No worries!
Awesome! The benefit of our online program is that anyone can participate, no matter where you live on this great planet.
Sure thing! You can connect via your phone or online to our group calls which run on Zoom, a rad video connection platform. Easy and powerful. My company has been running online trainings for several years and has access to great technology tools for our calls (you may decide to use the same technology to run YOUR calls in your business).
No. However, you may choose to hire a private coach to deepen your learning, but it's not required. All students in Get Gutsy Coach Training School have the option of being paired with a peer coach and a peer client. This benefit is HUGE.
This varies by week, but a good estimate is about 2 – 3 hours per week. The coursework is where the concepts come alive! This is where you'll put your coaching skills to work and also learn SO MUCH about yourself. You're going to LOVE this kind of homework. You'll also be encouraged to start coaching clients (either pro-bono/barter or fee or a mix of both) as soon as possible so you'll want to have time for this if you're ready to hit the ground running.
Yes.
Our next class of Get Gutsy Coach Training School is tentatively scheduled to begin in July 2018.
Neither I nor my company Jenny Fenig Worldwide, LLC regulates, oversees, or has a financial relationship with Get Gutsy Coach Training School Coaches or Get Gutsy Certified Coaches. Get Gutsy Coach Training School is an educational program. Ethics and professional responsibility education will be given to all coaches who complete the Get Gutsy Coach Training School. I envision all coaches I train to conduct themselves at the highest ethical and professional standards, but my company cannot be held responsible for the conduct of individual coaches.

Get Gutsy Coach Training School
Jenny Fenig // Founder + Head Coach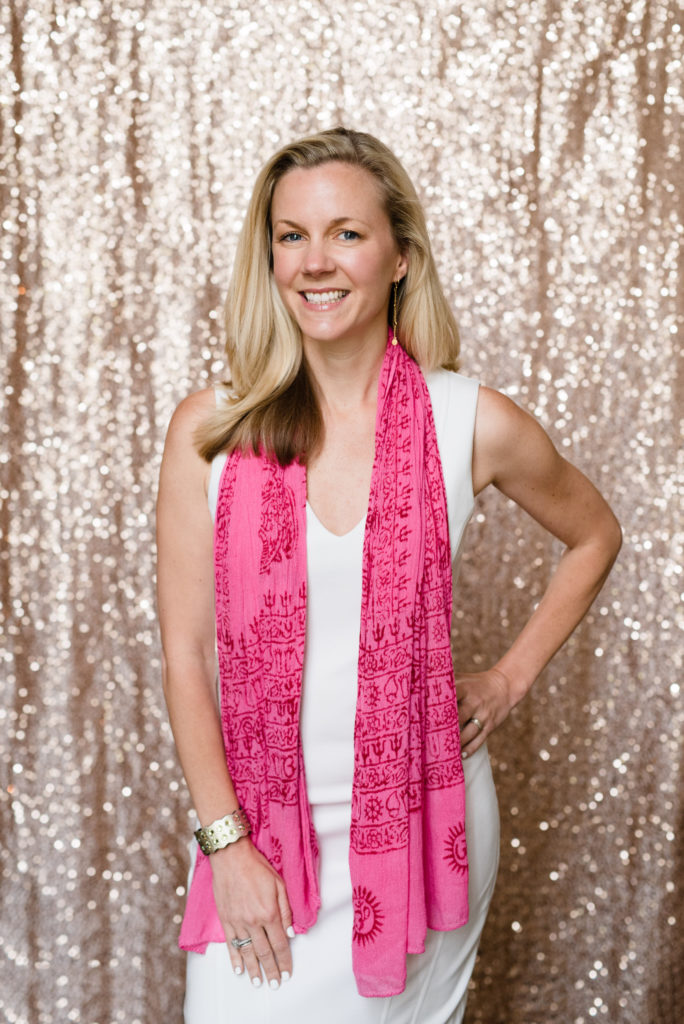 Hi, I'm Jenny Fenig, the creator of the Get Gutsy movement. I'm a mentor to spiritually-driven coaches, healers and creatives saying YES to building powerhouse businesses online.
Is that you?
The sacred mission of my courses, best-selling book, podcast, and coach certification school is: how to touch more lives with your message and cash in on your calling®.
After a successful corporate career in New York City, I quit my 6-figure job to do what I was put on this planet to do: coach gutsy leaders to help more people and rise to their next level.
In April of 2015, I founded Get Gutsy Coach Training School to empower spiritual coaches to make a difference and a great living.
I'm THRILLED to have won a 2016 Silver Stevie Award for COACH OF THE YEAR.
I live in Massachusetts with my husband and three children who make the journey sweet … and a little wild.
My husband Steven and I homeschool our 2 amazing sons and marvel at the magic that is our daughter. I'm SOOO grateful my coaching and training business allows me to do what's best for my family and still make a powerful impact with my work.
Check out my digital headquarters here – http://JennyFenig.com.
Time to RISE.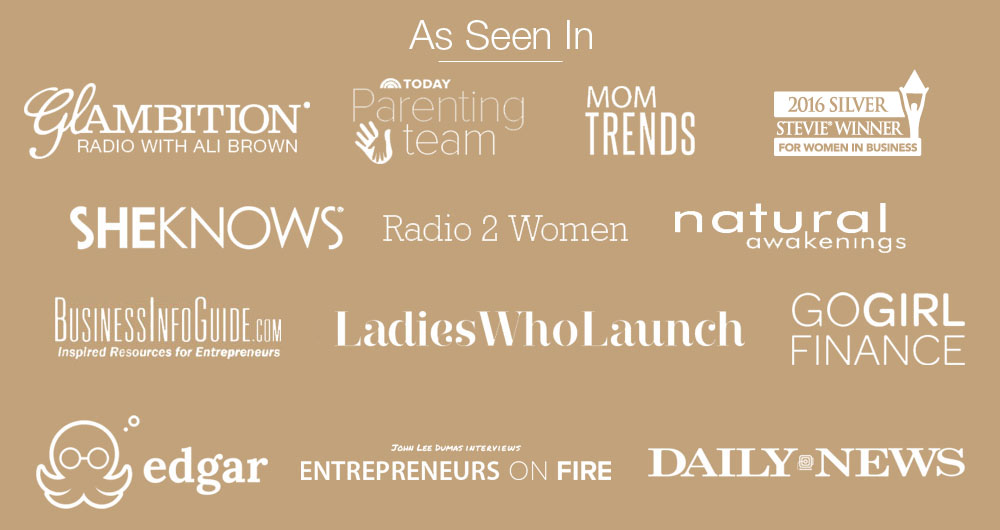 How to Join …
Get Gutsy Coach Training School teaches you exactly what you need to know NOW to truly make it as a coach. You won't find anything in the market like this or at such a huge value.
Securing 2 – 4 paying clients to invest in a coaching package with you will pay for this training. We're essentially giving you the key to unlock your next level of growth.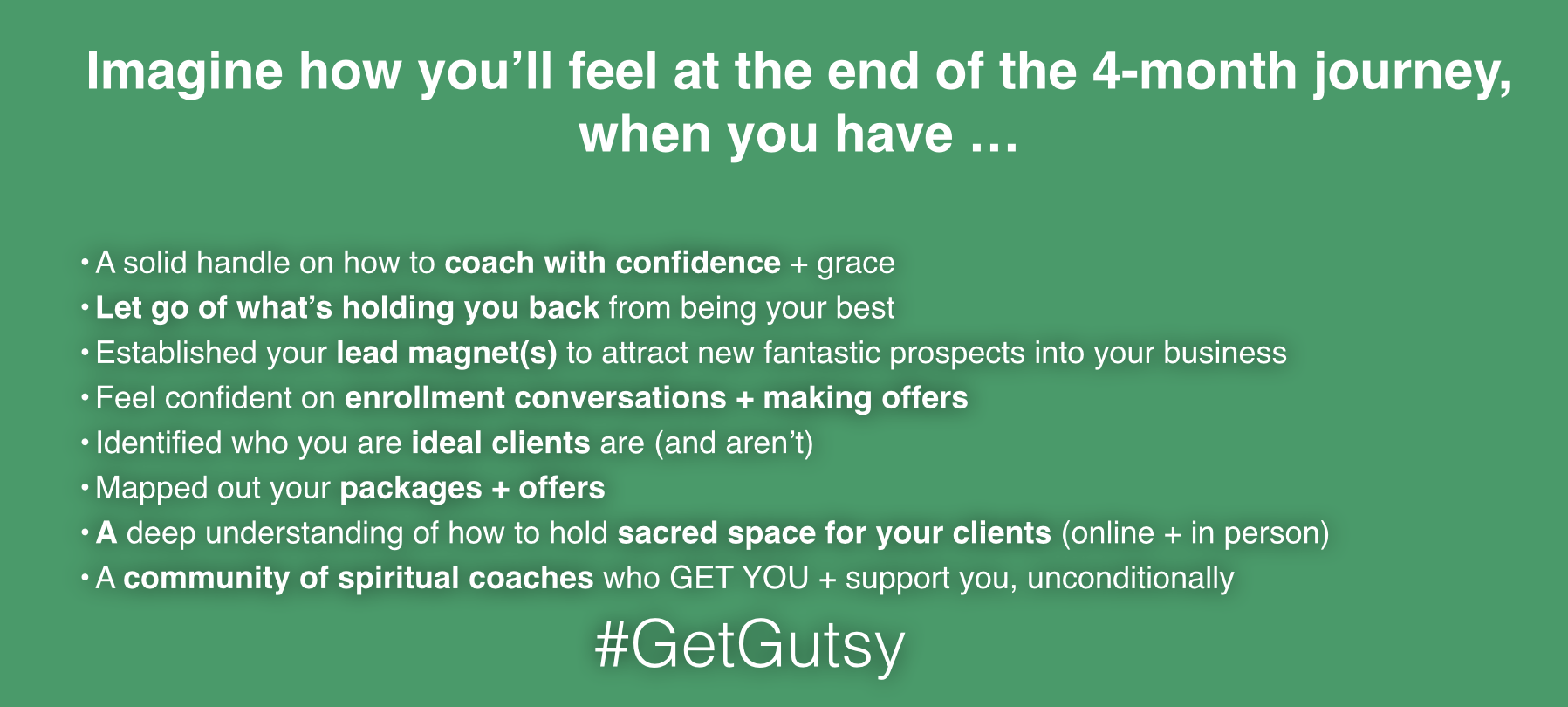 Your Next Steps
1. Choose your payment preference – PAY IN FULL or PAYMENT PLAN (there are 2 monthly payment plans to choose from). Simply click one of the "Yes! I'm In." buttons below.
Enrollment ends on Tuesday, December 19.
2. Once you submit your payment, you'll be led to our application page where you can tell us more about you. We pride ourselves on "right fit" in GGCTS (plus we love getting to know our students!). If your application isn't approved for any reason, your payment will be refunded in full.
3. Once your application is approved, you will get immediate access to our resource library, Facebook group + a new student orientation that you can go through at your leisure before our January start date.
4. Celebrate!
Enrollment Closes In …
Choose Your Payment Option
PAY IN FULL (best value)*
$4,500
*You'll get these 2 bonuses when you pay in full: 30-minute private coaching call with Jenny + Step Into the Spotlight training that teaches you how to work with the media to gain visibility for your work + attract clients.
 – OR –
PAYMENT PLAN #1
$750 deposit + 7 payments of $600
 – OR –
PAYMENT PLAN #2 (Just Added!)
$750 deposit + 11 payments of $380
The sooner you say YES, the sooner you can start creating your future and changing the world in the way that only you can.
I created this program to marry the best of classic coach training with what you need to know to make a great living as a coach. You won't find anything in the market like this or at such a huge value.
Whether you want to build a full-time coaching business, add coaching into your current business offerings, lead group programs and retreats, coach leaders within your organization, go deeper into your spiritual leadership journey, or generate a little extra income by working with a handful of clients a month, we've got you covered.
Coaching is a transformative personal growth path that will change your life – and the lives of the tribe you are meant to serve – forever.
Ready?
See you inside Get Gutsy Coach Training School.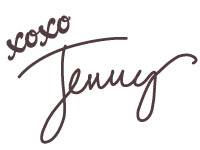 P.S. If you have any questions before you join, feel free to contact us at vip@jennyfenig.com and we'll be happy to help you.
Legal Disclaimer: Every effort has been made to accurately represent our program and its potential. Each individual's success depends on her background, dedication, desire and motivation. As with every business endeavor, there is no guarantee that you'll make money. It should be clear to you that by law we make no guarantees that you will achieve any results from our ideas or models presented on our Sites, and we offer no professional legal, medical, psychological or financial advice.

Superstar Students Speak Up
Enrollment Closes In …